Covid-19
Video message concerning COVID-19, from our President & Owner, Jill Carlson. Learn how PARK CO., REALTORS® is being impacted, how we are operating safely for everyone's protection, and our thanks and gratitude to our community during these times.
---
Park Co. Topics on COVID-19
Please click on the following links below in regards to the topics on COVID-19 (coronavirus) to learn more from PARK CO., REALTORS®. Thank you!
Frequently Asked Questions (FAQ's) on COVID-19

PARK CO., REALTORS® Statement on COVID-19
The Power of Park…Here For You!
Like the rest of the world, the real estate industry is experiencing a period of uncertainty. While each day brings new challenges, the PARK CO., REALTORS team continues to vigorously do what we do best…serve our clients. During this critical time, we promise to keep you informed with up-to-date market knowledge and provide you with the guidance you need. PARK CO., REALTORS has been in business over 60 years, and we have weathered major floods, recessions, and everything in between. We have the proven experience to navigate difficult times, and we can assure you that our team is committed to providing top-notch service throughout the Fargo-Moorhead and Lakes region.
As always, our agents, staff, and clients' safety and well-being is our top priority, and we have the tools in place to function virtually as needed. Buyers are able to view listings via virtual tours, attend virtual showings, and view photos and information through our PARK app. For those critical in-person interactions, we have strictly enforced safety measures for both buyers and sellers. The bottom line is- we will meet our clients where they are comfortable.
Know that we are committed to doing our part to keep the economy going by supporting our buyers and sellers and ensuring that real estate transactions continue to move forward. We have actually worked through this world-wide pandemic to see our best JUNE in the history of PARK! Followed by very strong July, August, and September months. We know that tough times do not last but tough companies do. We've successfully faced challenging times before and we will do so again this time around.
From all of us at PARK CO., REALTORS, we thank you for your ongoing support and partnership. Stay safe and stay healthy!
Thank you!
---
PARK CO., REALTORS® FAQ's on COVID-19
We have been asked many questions on how PARK CO., REALTORS® is operating during COVID-19. Below we have provided our Frequently Asked Questions (FAQ's) in infographic (image) and PDF file format. If you have a question that you do not see on the FAQ, please contact us!
FAQ - Infographic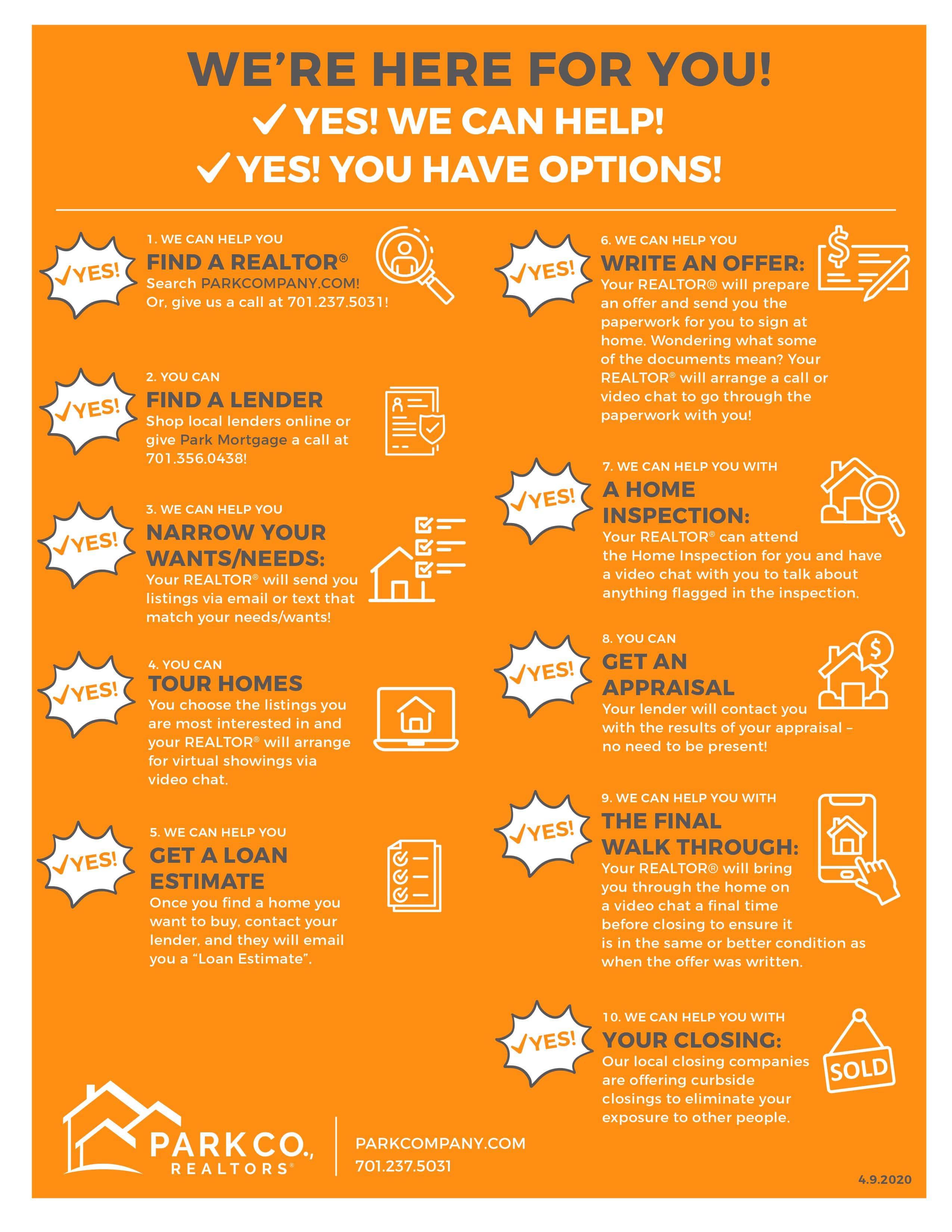 FAQ - PDF Format
You can view the FAQ's in our convenient PDF Format by clicking on the link below!
PARK CO., REALTORS®: COVID-19 FAQ's (PDF)
---
Other COVID-19 Resources
CONSIDERATIONS FOR EMPLOYERS, EMPLOYEES



UNDERSTANDING ECONOMIC IMPACTS



KEEPING WORKPLACES SAFE AND HEALTHY
Testimonials
" Cindy Schroeder was a wonderful realtor. She kept us informed at all times and was quick to respond to any questions we had. She was professional and very personable. She even brought a "welcome home" gift for our dog at closing which was a very nice touch. We will definitely recommend Cindy & Park Co. to our peers! "
- Andria Padilla
" First time home buyer, Cindy was extremely helpful and I truly felt she was on my side throughout the whole process. "
- Seth Burg
" Cindy was good at updating me on everything. She gave me good suggestions on how to keep the property presentable, and even helped me do some painting. She tends to business! "
- Mary Hein
" Thanks for all your help Cindy! "
- Roger and Terry Ball
" It was amazing. Cindy was very helpful and went above and beyond to help us find something that we loved and was in our budget. "
- Averil Whiteford
" Awesome realtor !!!! Knows her stuff and very good at keeping me informed on all aspects of the sale of my home and also she was always available to show me prospect properties for purchase. Top quality realtor !!!! "
- Michael Smithwick
" Selling one's property is an emotional experience. I felt very comfortable and satisfied with Cindy's help and guidance. "
- Mary Crosby
" Cindy's service was over the top! She went way above and beyond to make this as easy as possible. Being a first time home buyer, I knew nothing. Cindy explained things and made sure I understood everything, every step of the way. I couldn't possibly have asked for more! "
- Kevin Cossette
" Excellent service! Kept us informed through out the process of buying our land. "
- Donald and Sandra Hein
" Had a great experience. Cindy Schroeder did a wonderfull job and took care of any issues right away. "
- Kent Brandt
" no problems "
- Mark Nemmers
" Great experience! "
- Lindsey Sandbeck
" Cindy was amazing. Her personality is one of honesty, kindness, professionalism and most of all caring. From the moment we met her we knew she was not trying to sell us a house, but she was trying to find us a home. I not only got a house, but I feel blessed to have gotten a new friend! "
- Michael and Laura Roberts
" Cindy was wonderful - so patient and nonjudgemental. We would recommend her to anyone. She was very tactful in dicussing realistic expectations for our budget.  "
- Amy Johnson
" Cindy was great. Very professional "
- Kris Smith
" Cindy was great to work with! "
- Breann Smith
" Cindy always kept me up to date and it was a joy to have her assistance and support through out this very exciting process "
- Christopher Graunke
Previous
Next